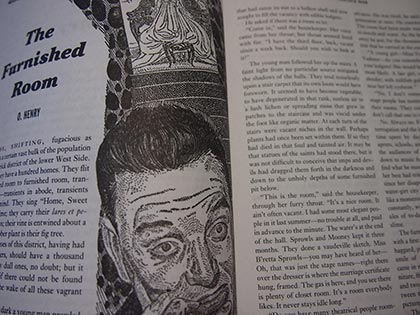 As part of my R.I.P. Challenge I wanted to read some short stories and while I had several books to choose from, I decided to read from the book I borrowed from the library a couple of weeks ago, The Big Book of Ghost Stories.
Before I get into the stories, I just have to share this picture. Isn't that great? The book has these cool, retro illustrations throughout and I love seeing those.  So far I've read three of the stories in this collection. There are old favorites like The Monkey's Paw to more recent stories from Joyce Carole Oates and Donald E. Westlake for example.
The first story I read was Laura by Saki. Two women talk about the afterlife and Laura imagines what she'd come back to life as. Her friend is a bit perturbed by all this but when Laura dies, things start to get real interesting. This one was creepy.
Next up The Furnished Room by O. Henry. A sad story about a young man looking for his sweetheart. Will he find her? Will he finally be at peace? I didn't find this one scary but did like the story overall.
The last story I read was The Toll-House by W.W. Jacobs. I chose this one because the writer also wrote The Monkey's Paw which was a story I first heard when I was in elementary school and I thought had such a great twist at the end. My expectations were high for this tale. In this story four men dare each other to spend the night in a haunted house. One of course scoffs at the idea of there being anything such as a haunted house. Of course the night is long and things do go bump in the night. I liked the story well enough but I didn't get a scare from this one.
So those are my short stories for the season. I hope to squeeze in a few others before the challenge is over and in time for Halloween. I'll keep you posted.