"Drawing is putting a line round an idea." ~ Henri Matisse
I've finished two graphic novels recently which weren't ones I originally listed for my Graphic Novel challenge but I found these at the library and couldn't resist them. Know what the cool thing is? I just need to read one more and I complete my challenge – woo,hoo! But, I don't want to get too carried away so let's just talk about these for now.

The first one is La Perdida by Jessica Abel (click on title for full review). Immediately I was hooked by the setting, Mexico city, a city I love. The story centers on Carla, a young woman trying to find herself in Mexico.
"I was delirious with Mexico. I was avoiding thinking about the inevitable, the ticket in my backpack that meant the end of the affair, until finally I bit the bullet and looked. I had missed my plane by a week."
And, so she begins her adventure. I loved this until it neared the end. There are some events that happen which I don't want to spoil for any reader but that make me question why I even liked Carla as much I did. She disappointed me. Would I read another book by the author? Absolutely. I think she can pull together a good story and I liked her artwork. Perhaps I expected too much out of Carla? I don't know but I'd be curious to hear if anyone's read this and what your thoughts are on it.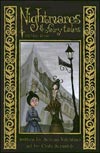 Next up is Nightmares & Fairy Tales: 1140 Rue Royale by Serena Valentino and art by Crab Scrambly (click on title for full review).
As with any good ghost story this tale starts with a creepy house and is soon filled with ghosts, nightmares and evil. It has plenty of atmosphere although there were a few unanswered questions for me. I see that this is part of a series so I'm not sure if the other books touch upon this house or story line for that matter. I guess I'll just have to look for another one and find out.
You know, graphic novels may not be the first genre I turn to when I'm thinking of which book next but I'm certainly enjoying them a lot.