What a fun time I had at the Etsy Austin Craft party on Friday. We had screen printing, button making, jewelry making and sewing going on. I was helping out Katie from Sophie and the Cat with an upcycle grocery bag project which was all the rage. We used old t-shirts to make grocery bags, actually I think they would have even made a cute little bag for books too. These are bags Katie made.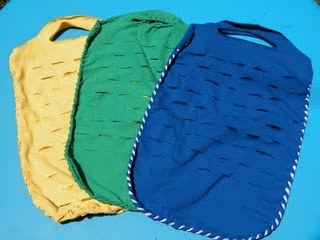 I carried the excitement from the craft party into the weekend as I finally sat at my studio table and worked on some journals. These are journals I've had in mid-progress since March? April? It seems so long ago I've lost track. With my old job and new job being so hectic it's been hard to find that push to do more outside of work. But this weekend I was reminded all over again why I love crafting.
Not only that but when we went to the bookstore this weekend, of course there was time at the bookstore, I found inspiration via a new magazine, Mollie Makes, and a new book, The Art Journal Workshop by Traci Bunkers. I just placed a book order tonight and can't wait to get The Art Journal Workshop. Looks so good.
So that was my weekend. I didn't get very much reading done unfortunately but I'm going to read a bit before going to sleep. Tomorrow I'll tell you about the book giveaway!