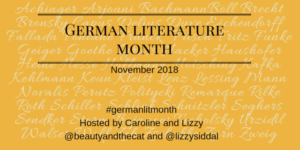 Have you heard that November is also German Literature Month in blogland? Lizzy and Caroline are hosting this event again and are now celebrating 8 years! So thank you in advance to the hostesses for another fun time exploring German literature.
November is the month for reading works originally written in German: fiction, non-fiction, poetry, plays, essays, comics, graphic novels.  As long as it's original language was German. This year, there are also some readalong and themes to explore every week.
In my last post on world literature I mentioned several German translations that would be great for this month's reading but I don't have those book (yet!) but of course I do have some on my shelf that would be perfect.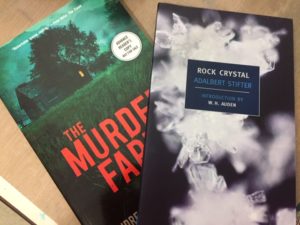 I've pulled out these two slim books (maybe if they are slim enough I can actually finish them on time!).
The first title is The Murder Farm by Andrea Maria Schenkel. The story is about a whole family is found brutally murdered at their remote farm home. The newspapers are filled with stories about what happened and it becomes a sensational case. Doesn't this sound like In Cold Blood? I read her book Ice Cold and found it a chilling crime novel set in during the 1930s in Germany.
The second book is Rock Crystal by Adalbert Stifter. Two children, Conrad and Sanna, walk from their village in the Alps to visit their grandparents the day before Christmas. On their journey home, they take a wrong turn and are feared lost in a snowstorm.
I hope you all have a wonderful weekend. Between all Atwood, German literature, nonfiction and all of my other ongoing reads, I think I have plenty to do this weekend.