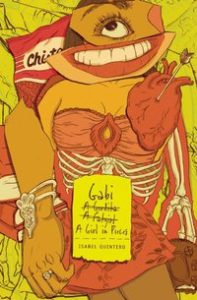 "My mother named me Gabriel after my grandmother who coincidentally didn't want to meet me when I was born because my mother was not married and was therefore living in sin."
Gabi, A Girl In Pieces
By Isabel Quintero
Step into Gabi Hernandez's journal and through the pages you'll meet a high school student filled with dreams about college, rants about her family, and doubts about her weight and love life. It may seem like a typical teen drama but Gabi also writes about serious issues including drug abuse, teen pregnancy and navigating two cultures.
Journaling her last year of high school, Gabi has a lot of worries on her mind but her determination and spirit shine through. She doesn't understand why her mother expects so much of her because she is a girl but lets her younger brother get away with so much. The biggest argument they will have though is about Gabi's desire to go away to college because her mom doesn't understand why Gabi needs to leave her home for school.
Gabi knows that her mom wants her to honor her traditional Mexican heritage values but Gabi is Mexican-American and while she speaks Spanish and understands the importance of family and heritage she is also questioning why there are two sets of rules for boys and girls.
Gabi explores her feelings and isn't shy about confronting stereotypes. Through her journal entries there are bittersweet letters to her mostly absent father, poetry about womanhood and an overall revealing portrait of a young woman.
I found Gabi could be funny, tough and very loyal to those she loves. She's not perfect and there are a couple of things that she does that make you want to shake her but that is part of what makes her so real and relatable. You can't help but wonder what success Gabi will encounter in life because I have no doubt she will be fierce and successful. I loved this book.
Source: Library copy