Not a lot of reading happened this weekend but I have a very good excuse because one of my dear friends was in town and we spent a good part of the weekend catching up, laughing, shopping and even visiting Gruene, Texas.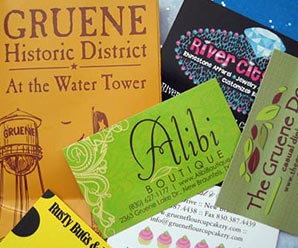 Gruene is about 45 minutes from Austin so it's not far but I'd never been there. We enjoyed shopping at some of the boutiques, had a delicious lunch at the Gruene Door, a snack at the Flour Cupcakery (yum!) and could have continued exploring but with the Texas heat we were worn out soon and headed back to Austin for a movie.
Sunday has been a day of catching up with things around the house and errands but we also managed a quick stop at the bookstore. I was looking for Excellent Women by Barbara Pym and as I expected, I didn't find it on the shelves at Barnes & Noble but I had a coupon and put that to use on an online order.
I hope you've all been having a wonderful weekend. I'm off to try to get some reading done before it's time for sleep and the work week to begin.