There wasn't a lot of time for reading or checking emails/blogs this weekend but that's okay because my girlfriends and I had a blast.
We started off the day on Saturday with a good breakfast at Trudy's, one of my favorite spots in Austin. I remember hanging out there a lot back in my college days. From there we went down to South Congress avenue where it's filled with a lot of one-of-a-kind shops. We wandered around vintage clothes, unique home decor items and pretty trinkets.
I was thrilled to find some sheets of paper at Ten Thousand Villages and Tesoros. The one with the hearts is stamped lotka paper from India and the mint-y color one is from Bangladesh. Do you see the flecks of paper in that one? Those are bits from newspapers and other printed materials. Aren't these beautiful? I already have some books in mind that I want to make with these.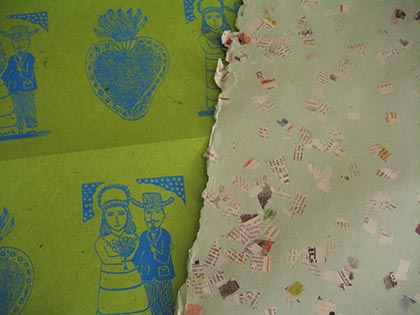 We had some coffee breaks and we wandered the aisles at BookPeople. It was so nice to laugh and just spend time with my friends. I can't wait until our next meet-up.
And, just in case you are wondering if there was any reading done this weekend — Well, of course there was. I am greatly enjoying My Lady of Cleves by Margaret Campbell Barnes. Stay tuned for a review and a giveaway at the end of the week!
Now it looks like once again I'm way behind on my blog reading so forgive me but I hope to catch up with you soon.