I hope you all had a wonderful weekend. I wish I could have done a lot more reading than I did but part of it was spent on shopping and errands and I also spent a good bit of time making pies. I'm sure I've mentioned that I'm not a cook/baker. I barely know my way around the kitchen. I'm crafty but not when it comes to the kitchen, but I had to make these pies for work. Gah, I hope they are ok. Keep your fingers crossed for me will you!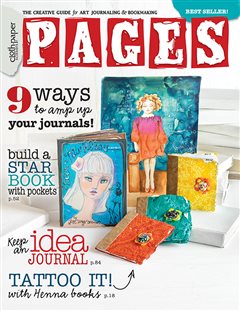 On the reading from though I did finish a wonderful book which I'll tell you more about soon but most of the reading I did was of the magazine kind. I caught up on the latest Bitch Magazine, Mental Floss, Mollie Makes Home, Mystery Scene Magazine and my favorite this time around Pages. I'm always so inspired by this magazine. Makes me want to submit my own work. Maybe next year!
Anyway, there are a few of books on bookbinding and journaling that are definitely on my wishlist after seeing them in the bookstore and in this magazine. They are: Book Play, Journal Your Way and Artist's Journal Workshop. Maybe Santa is still watching!
So how about you, done any magazine reading lately and do you have one to recommend?