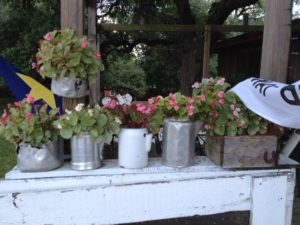 Hope you all had a great weekend. I got to spend my weekend with two of my best friends. These wonderful girls and I have been friends for 30 years. We typically get to see each other a few times throughout the year and talk/email frequently but it's always best when we actually have more time to spend together.
We met up in Salado which is somewhat half way between Austin and Dallas. We got to visit cute little boutiques, had some delicious coffee and we tried on clothes, hats, you name it. Oh and there was some wine drinking going on of course.
The best part was talking into the wee hours of the night about books, poetry, creative pursuits, travels, etc. One of my friends gifted me with Big Magic by Elizabeth Gilbert. I'm really looking forward to this book. If it wasn't because I'm trying to finish my book for book group tomorrow, I would have already started this one.
I also took some books to share with them. I passed along The Reckoning by Jane Casey, which is from a series I really enjoy. And, I also passed along The Lowland by Jhumpa Lahiri, which I think was one of my favorite reads a couple of years back.
So a great weekend and we're already looking forward to our next get together. Now, I do have to get to my book group read because I'm way behind and want to finish it or at least make some serious progress in it by tomorrow. What about you, what have you been up to?