I know I had said book reviews and a giveaway were coming up but I got a bit bogged down with some other stuff so I'm putting that off for next week. Instead, I thought why not participate in Friday Finds? I have seen Tanabata, Matt and Melody post on this before and have wanted to join in so here it goes.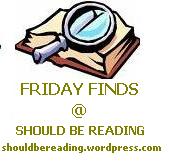 Here are some books I've recently added to my wish list:
Don't these sound good? This weekend we are probably go hang out at one of our favorite spots and I'm sure I'll come away with more books to add to my list. Wishing you all a wonderful weekend with some good reads!