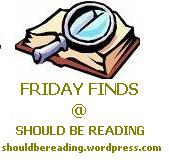 Not only do I hoard novels, mysteries, historical fiction and a few other genres, but I also add craft books to my to-be-bought list on a constant basis.
I have a bookcase dedicated to my crafty books where I keep books on bookbinding, journaling, paper arts, and where I also keep stacks of my favorite magazines like Bound & Lettered and Somerset Studio.
So this Friday Finds is dedicated to listing some craft books I really, really want.
So those are my finds. I'm off to enjoy the weekend… Hope you do too!