The downside to reading so many wonderful book blogs is that my wish list just keeps growing. You guys have to stop telling us about all of these books!. Just kidding — I wanna hear about all of them.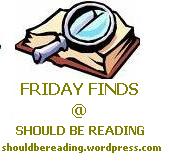 Here are the books I read about this week which I'm adding to my list:
I have a feeling I'll have a lot more new books to add to my list after this weekend because I've told my husband that we must go to the bookstore for our date night. For one reason or another it's been quite a while since we've hung out at the bookstore and that is not a good thing. Anyway, I hope you all have a wonderful weekend. I hope to catch up on reading and hopefully finishing some new books for the shop.