It's time for another edition of Friday Finds and I'm going to share with you some of the books that I've added to my wish list recently after having read about them in various book blogs.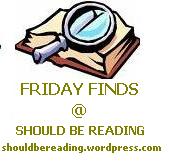 I know I'm always talking about my wish list and stuff and someone asked me if I really did have one. Of course! I used to have a notebook I wrote in but that got a bit too out of control – as my husband says, my wish list was the size of a book. So, I use Bookpedia or Bookmooch to keep track of books I want to get. Mainly Bookpedia though as I can export the books to my iPod which means I can carry it around with me and have that wish list handy.
Anyway, guess what I got in the mail the other day? The latest Mystery Scene. You know this means there'll be a lot more books going on that wish list.