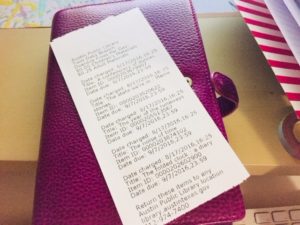 I mentioned that I went to the library last week to pick up some nonfiction reads and decided I need to at least start one of them. It was hard to decide but I ended up starting The Folded Clock by Heidi Julavits. As I was turning the pages a previous patron's checkout slip fell out and I was curious to see what other books this person had read or was at least interested in.
I hope they enjoyed A Confederacy of Dunces. That is such a great book with such a memorable character. The other book titles were new to me though and I started looking them up and now I want to read these.
The State We're In: Maine Stories by Ann Beattie. The collection is woven around Jocelyn, a wry, disaffected teenager living with her aunt and uncle while attending summer school. As in life, the narratives of other characters interrupt Jocelyn's, sometimes challenging, sometimes embellishing her view. Doesn't that sound good? I've not read any of Beattie's books and this sounds like it could be a good one to pick up.
The Year of the Runaways by Sunjeev Sahota. Three young men, and one unforgettable woman, come together in a journey from India to England, where they hope to begin something new—to support their families; to build their futures; to show their worth; to escape the past. I love stories of the immigrant experience and think this one could be really good.
The Noise Of Time by Julian Barnes. Another author who I keep meaning to read. A stunning portrait of a relentlessly fascinating man and a brilliant exploration of the meaning of art and its place in society.
So to the library patron who checked out The Folded Clock last year and left the check-out slip in the book, thank you! I now have added a few more books to my reading list. Not that I needed another stream of book recommendations. Ha.
Let me know if you've read any of these and/or if you've also added books to your list via a different type of "recommendation".