I told you I was going to go to Half Price Books and I did.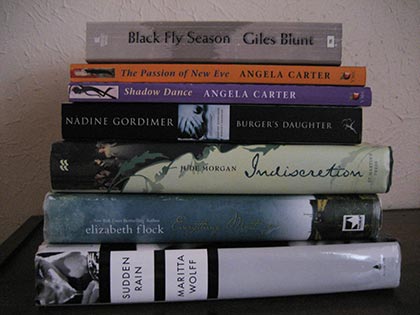 The first book is Black Fly Season by Giles Blunt. This is an upcoming read for my mystery book group. I've heard a lot of good things about this author (I'm not sure if this is a series book) so I am hoping it'll be a good crime novel.
The next two books are by Angela Carter, The Passion of New Eve and Shadow Dance. I know some of you in the blogosphere are big fans of Carter and I'm hoping I finally get read something by her this year.
Next is Burger's Daughter by Nadine Gordimer. It seems I've been accumulating a few of Gordimer's books. They just sound so interesting. The other book is Indiscretion by Jude Morgan. I remember when this one came out it seemed to be quite popular in blogland.
The other two are Everything Must Go by Elizabeth Flock and Sudden Rain by Maritta Wolff.
So I'm quite excited that most of these, save the Flock book, are by authors new to me. Have you read any of these? And, most importantly did you already buy some new books this year?