Well, my plans for a lot of bookbinding this weekend kind of didn't happen as my husband and I spent a good deal of time organizing the studio. In a way, that was probably for the best as now things feel more in place so hopefully this coming week I can finally tackle my bookbinding projects.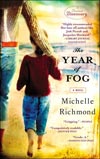 I did spend quite a bit of time with books though and finished The Year of Fog by Michelle Richmond. This was such a readable book. The story is about a child that goes missing. The soon-to-be stepmother, Abby, had been out with the little girl taking photographs and in the one instant she turns to take a picture, the little girl is gone. There is a lot of emphasis on memories and photographs which I really enjoyed reading about, although if you look at the Amazon reviews, you'll see a lot of people found that "boring". What I'm now trying to figure out is how well I liked the ending. I can't tell you why I've had some issues with it because I'd spoil the book but I'm going to take a bit of time to think on it and then come back with a review.
Speaking of reviews, the year just started and I'm already behind. I've finished four books already and I really must tell you about them so those will be coming soon.
Now I had to dive into a couple of books this weekend and I found myself opening the pages and falling into these novels.
The Samurai's Garden by Gail Tsukiyama. Because I really want to finish my Japanese reading challenge and because I'd had this book on my bookshelf for a while.
Cutting for Stone by Abraham Verghese. Because BookBrowse sent this to me and wants a review soon. This is quite a chunky book but already I'm swept into the story.
Good stories to start the week. Hope you are also starting off your week with some great reads.