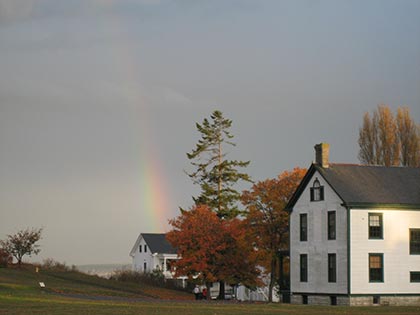 I'm back from a wonderful time at Journalfest. Our retreat was held in Fort Worden and nature treated us to some glorious views. I picked up colorful leaves to save in my journals, saw a rainbow, watched deer wander across the lawn while having breakfast and saw a glorious sunrise on our last day.
There was so much energy from both instructors and students. I took three classes, got to meet other bookbinders and learned so much from all the artists. No matter if someone was a beginner or experienced, we were all there willing to share tips and learn.
My first class was with Karen Michel and she taught us how to make a fused plastic bag journal. This was so simple and so fun. I try not to get plastic bags at the stores but now see every plastic bag as a potential journal cover. Ha. Here's what I made: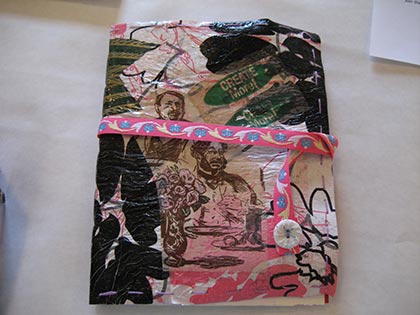 The second day I took a class with L.K. Ludwig, whose book True Vision I turn to quite a bit. In her class we painted our papers for the inside and then using an old book cover, used a knotted spine binding to stitch paper and covers together. Here's my book: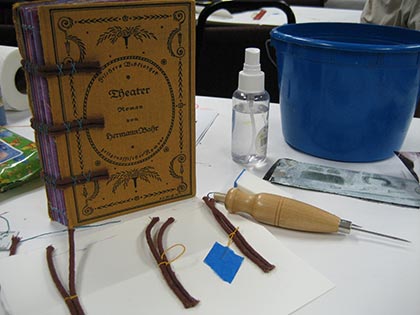 The last day was a class with Daniel Essig on how to make a medieval girdle book. It was so much fun to work with leather again, a bit intimidating, but worth it. Here's a picture of my book as it was in progress: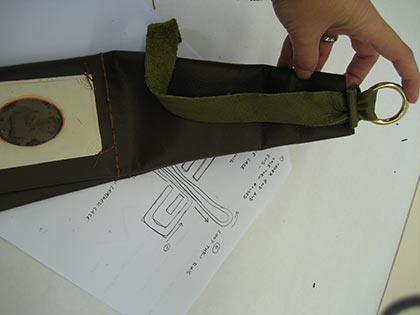 I need to take more (and better) pictures of each book and I will post them on my Book Art page soon. Goodness, I just realized I'm very behind in posting projects on there!
Anyway, it was all so wonderful. We had journal jams in the evening, classes during the day and well a bit of information overload but I felt so inspired and a tad bit sad on the plane back home. I just couldn't believe it was over. Now, I want to make new books, I want to dream about going to next year's Journalfest and an even bigger dream, I'd love to teach a class. Who knows right? Maybe one day.