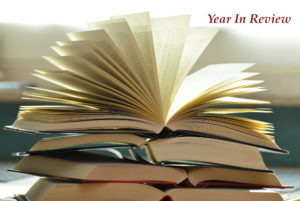 The year is coming to a close and as always, I wait until the last minute to do a wrap up post just in case I finish another book and/or it happens to be a favorite. I may still finish another book but let's get to it because there's a lot to go over:
Here are my stats for 2019:
Favorites in Fiction: The Book of Unknown Americans by Cristina Henriquez, Ask Again, Yes by Mary Beth Keane, The Mars Room by Rachel Kushner and The Boston Girl by Anita Diamant
Favorites in Mystery: You by Caroline Kepnes, The Chestnut Man by Soren Sveistrup, The Awkward Squad by Sophie Henaff
Favorites in Other Genres: Smoke Gets in your Eyes by Caitlin Doughty, Felicity by Mary Oliver and Book Love by Debbie Tung
The Numbers:
Total books read in 2019: 73
Books by women: 66
Books by men: 7
Fiction: 24
Mystery: 33
Non-fiction: 2
Romance: 2
Short Story Collection: 2
Classic: 1
Graphic Novel: 5
Poetry Collections: 4
Books in translation: 9 (Spanish, Japanese, Swedish, Danish, German and French)
Audiobooks: 25
Challenges participated in: 1
I read 24 more books than last year and I'm sure that's thanks to audiobooks. Even though I discovered audiobooks last year, I finally have gotten used to them and now I love them. I still prefer to listen to mysteries though. Speaking of mysteries, no surprised that I still read more mysteries than any other genre. I am somewhat surprised though by the number of books by men. I think this may be my lowest amount ever.
I took a break from most reading challenges with the exception of R.I.P. but in 2020 I'll dip back in to a few and hopefully participate in some reading events like Women In Translation, Nonfiction November and German Literature Month. I'll tell you more about the reading challenges in another post.
One thing I've noticed is that I don't go to as many bookish events as I used to. I miss going to poetry readings, author signings and book festivals. I'm hoping this year I make time for these.
How was your reading year? Do you have reading goals for 2020?
As always thank you for stopping by and sharing in the book love with me. Wishing you all the best in 2020. Happy New Year!
Smiles,
Iliana