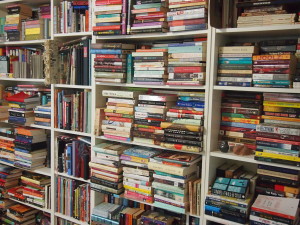 One of my favorite yearly blog posts is doing a recap of my reading year. It's always fun to reflect back on the books that I enjoyed and to think about what next.
So here are the stats for 2014:
My favorites in Fiction: The Woman Upstairs by Claire Messud, Casebook by Mona Simpson, The Lowland by Jhumpa Lahiri and Bridge of Sighs by Richard Russo
My favorites in Mystery: The Strange Fate of Kitty Easton by Elizabeth Speller, The Absent One by Jussi Adler-Olsen and I Will Have Vengeance by Maurizio de Giovanni.
The Numbers:
Total books read in 2014: 45
Books by women: 30
Books by men: 15
Fiction: 20
Mystery: 18
Young Adult: 2
Romance: 1
Graphic Novel: 1
Poetry Collections: 1
Audiobooks: 3
Books in translation: 5 (Swedish, Danish, Japanese, Italian, and Icelandic)
Books from the library: 13
Kindle reads: 19
Challenges participated in: 6
Challenges completed: 0
Another year where my overall books read number went down. What is going on with me? Oh I know, life! Anyway, I'm very happy I continued to incorporate books in translation, poetry collections and I finally "got" into audiobooks. There were some DNFs but I forgot to keep track of those. And, I do wish there had been more classics, more non-fiction and more variety but I think that's my typical wish. Let's face it, I do love my comfort books and those are mainly fiction and mysteries.
Let's see where 2015 takes me. I have not joined any reading challenges yet because I was checking out A Novel Challenge and got a bit overwhelmed with all the variety that is out there. I didn't do that great on my reading challenges this year but I do have fun making my lists. Ha. Let me know which challenges you are participating in and I may join too.
No reading goals for next year just hopeful for a lot of good reads. Wishing you a wonderful year ahead filled with lots of good books and good times!