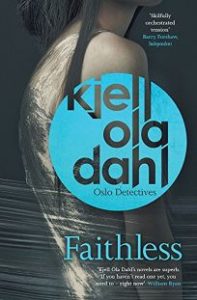 "He had to inhale some fresh air, but to buzz down the electric windows he would first have to switch on the ignition. If he switched on the ignition, the headlamps would come on automatically and most probably ruin everything."
Faithless
By Kjell Ola Dahl
Translated by: Don Bartlett
Published: September 2017
Source: Advance review copy
This is a Norwegian thriller set in Oslo. Inspector Frank Frølich is called to the scene where a woman was dumped, wrapped in plastic. He quickly realizes that he knows her and thinks that their recent meeting may have had something to do with her murder.
Their paths crossed when he was on a stake out and arrested her for cocaine possession only to let her go because she seemed they couldn't tie her to the person behind the distribution. Later their paths cross again at a party when Frank is introduced to the woman by one of his oldest friends and she's introduced as his fiancé.
Did Frølich's questioning lead to her murder? This isn't the only case on his plate. He's also got a missing university student who's arrived from Uganda. All evidence suggests she was a studious young woman but her disappearance is casting serious doubts about what she may have been involved in aside from her studies.
This had all the promises to be a good mystery but most of the time I found it confusing. There were moments when I wasn't sure which character was speaking and I could never form in my mind an idea of what the characters were like. The narrative seemed to jump around a bit and although this is the fifth book in the series, I don't know that if I had read the series from the beginning it would have helped. Maybe. I will say the ending was unexpected and just wish the rest of the book had been as interesting as the ending.