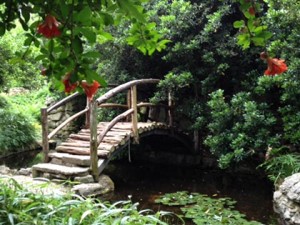 We took advantage of the overcast day on Saturday to go to the Zilker Botanical Gardens. We got there a bit early which was perfect as there weren't a lot of visitors yet and we enjoyed the trails through the gardens. We saw a rose garden, a succulent garden and all sorts of beautiful blooms but one of my favorites was the Woodland Fairy Trail.
"The crystal water, the great tree, the wondrous flowers and gems, the tangle of human fate the elders deciphered, the fairy court lined with shells, the colors so bright a human would have gone blind from the sight of them, the elders moving through the water or sitting at their thrones like elegant, shimmering fish while the young fairies emerged from the water and flew back down again, going back and forth between worlds, the fate of all humanity in their hands."
From Godmother by Carolyn Turgeon.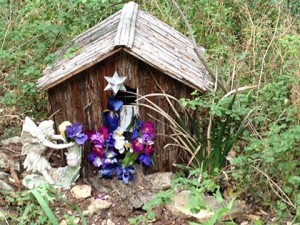 How appropriate that I should be reading about fairies right? we saw such cute fairy homes. Some up in trees, other part of the tress and others made out of leaves or discarded material. Very creative and magical.
My husband has been working in our garden a lot and I feel like we need a fairy garden too but I get the feeling he's going to leave that part to me. Ha.
Anyway, a fun weekend filled with books and the outdoors. I'll tell you more about my library visit in my next post. How about you, what did you do this weekend?