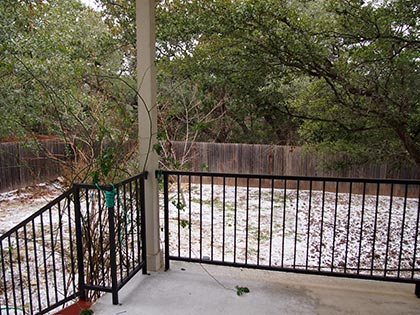 Thanks to the weather I got to enjoy a longer weekend. We woke up Friday to ice all over town and thankfully our office was closed. I've heard that there were as many as 150 wrecks. Can you believe that? For those of you who are snow-bound, you are probably looking at this picture and thinking that's it? But, for us in Austin it's a big deal and basically the whole city just shuts down.
Anyway I got to do a bit of extra reading and I finally finished my book for the Japanese Literature Reading challenge. I will try to do a write up soon but let me just say that I'm glad to be done with that book.
I have been focusing only on three books this weekend but I think I'm going to treat myself and start a new book soon. I realized that all of my current reads are sent in England and I think I need to do a bit of armchair traveling.
We did stop in at the bookstore on Saturday (we've had gorgeous weather this weekend) and I discovered Daphne's Diary. Have you seen this magazine? It's so cozy and dreamy. There are journal entries, recipes, travel tales and all sorts of crafty inspiration. This was the winter edition and my favorite part was reading about Daphne's trip through Bruges. We visited there a few years ago so it brought back wonderful memories. I would love to go back one day. Anyway, I look forward to the next edition of this magazine.
Finally, I also spent quite a bit of time organizing my studio and doing some bookbinding. A bit of sewing and lots of paper cutting. Oh and for my personal journaling projects I bought a date stamp (similar to these). How come I haven't used one of these before? So cute. Alright, now to take care of some stuff before it gets much later and more bookish talk soon!