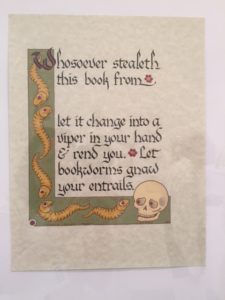 I hope you guys had a great weekend. We had some rainy weather, found a great vegetarian restaurant and went to the Ex Libris group show at Flatbed Press. The show was about the modern interpretation of the bookplate. Well, I could not pass that up.
The work we saw was really wonderful. Some was fun and a bit lighthearted but there were the other works that were a bit more on the dark side. You can see some of work on the gallery's instagram. This fantastic "curse" was one of my favorites by artist Cathy Rylander.
I had to buy a little something and got a pack of three bookplates by PaperCutPress. These are black and hot pink and remind me of a woodcut. I've already put one on one of my current journals and it's perfect as that journal is hot pink!
If you want to learn more about bookplates, which I actually don't know much about, you can find this interesting article on the first known printed bookplate. Very cool. Do any of you use bookplates? I don't but I definitely love to see them.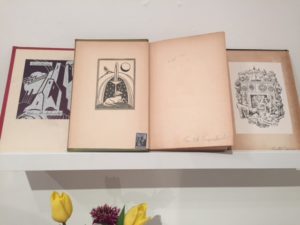 After we saw the show we wandered around Flatbed to see some of the other exhibits and visit the Book Arts Center, which is also housed there. I've taken a couple of bookbinding classes there and just love coming out here in general.
Unfortunately as with a lot of great places in Austin, Flatbed Press along with all the other galleries, are going to have find a new home next year. They've lost their lease due to rising rent costs. This is one of those things that bugs me so much about Austin. So many indie businesses have had to close shop because of the rising costs and it's really disheartening. I'm just hopeful that they all find a home so they can continue to be a part of this community.
I believe the Austin Book Arts Center is going to have a fundraiser later this year so I can't wait to get more details on that.
Anyway, hope you had a great weekend and let me know what you were up to.