I hope you all had a great weekend. It's been a good one around here. Got to visit the library, do some crafting, reading and I even went to an estate sale and bought a couple of vintage postcards. I'll have to share those with you in an another post. I'm not sure what I want to do with those postcards yet but maybe they'll end up in a journal. That was my first time at an estate sale and wouldn't you know it, a fight broke outside over some items. Holy moly. Luckily, I got my postcards without having to fight anyone over those.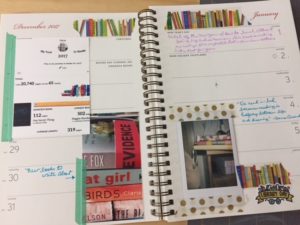 Anyway, we all know that I have a fondness for journals (those I buy & those I make) but you know how after Christmas Barnes & Noble discounts calendars? I found The Reading Woman Engagement Calendar and thought why not. I currently have about six journals in rotation but I thought this would be fun to just document bookish things. Different from my blog, in that I can alter this with paint, stickers, whatever.
So here is the what it looks like so far. I added a picture from my GoodReads Year in Review graphic, a picture of some books I talked about here on my last blog post, some quotes and an instax picture of my nightstand. There are is also washi tape and a sticker from Andi's shop.
I honestly don't know if I'll be able to keep up with this one but so far it's kind of fun. Plus, this will be a journal that I can cut up after the year is done if I want to and save the pictures and quotes. So, even if I don't end up completing it I think I can have a lot of fun with this one later.
Aside from your blog, do you also keep a reading journal? Would love to hear more about that so please share!