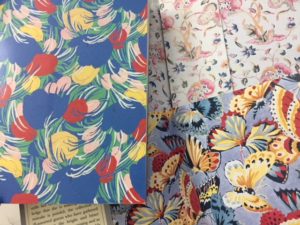 The Persephone Readathon has a few days left to go but today's prompt was one I couldn't pass up – endpapers! You know, those beautiful papers that you first see when opening a book. I think a lot of new books just have a plain piece of paper but I love it when I see a beautiful design or a map. I love maps.
Persephone Books are known for their gray covers but when you open your books the endpapers are stunning. They can be designed after wall papers or fabrics and linens of the era the book is set in. For Day 9 of the Persephone Readathon the idea was to either show some of your favorite endpapers or design some.
I have about 12 Persephone books and these three have my favorite endpapers. I love the bright blue and yellow of Mariana by Monica Dickens. The butterflies on Cheerful Weather for the Wedding by Julia Strachey make me smile. Finally The sweet florals of The Far Cry by Emma Smith make me think of soft bed linens.
Do you notice endpapers? Any favorites you can think of? If you want to read more about the history of endpapers check out this article. You know what I would love? To get my hands on some of those endpapers from Persephone Books. I wish they would sell them and then I could turn those into journals or use them in some of my other artsy projects.
Anyway, I hope you all have a wonderful weekend. I'm going to try and finish a book or two and it's been a while since we went the bookstore so I think a visit is a must.