It's summer and everyone is coming up with their summer books list. Bookmarks Magazine, NPR, even Poets & Writers magazine is sporting a rather summery look this month.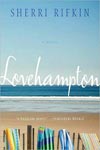 I've read one book recently that would be a perfect addition for those of you wanting a good beach read. LoveHampton by Sherri Rifkin came to me as an ARC and while it is more along the lines of chick lit, it is a fun read and one I'd recommend if you are in the mood for something light. Want to know more, here's my review.
I have a few more books that look like they'll be enjoyable reads so I'll have to throw these into my mix of books. Here are the others:
Dedication by Emma McLaughlin and Nicola Kraus. From the book jacket — "What if your ex was adored by millions and you had only one chance to make him regret his entire existence?"
Free Style by Linda Nieves-Powell. This is a story about two thirtysomething married moms who decide to escape their to-do lists and revisit their past.
How to be Single by Liz Tuccillo. From the book jacket — "It's the most annoying question and they just can't help asking you. Why are you single?"
Now I just wish I was on the beach with these books in my bag and a frozen drink in my hand.