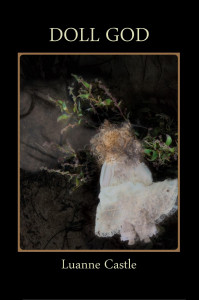 About the collection: "Luanne Castle's debut poetry collection, Doll God, studies traces of the spirit world in human-made and natural objects–a Japanese doll, a Palo Verde tree, a hummingbird. Her exploration leads the reader between the twin poles of nature and creations of the imagination in dolls, myth, and art."
From the first poem, which reveals the child's wish to be godlike, to the final poem, an elegy for female childhood, this collection echoes with the voices of the many in the one: a walking doll, a murderer, Snow White. Marriage, divorce, motherhood, and family losses set many of the poems in motion. The reader is transported from the lakes of Michigan to the Pacific Ocean to the Sonoran Desert.
This debut poetry collection invites the reader into a world that seems dream like at times in the vivid descriptions. I am reminded old myths and legends. And, yes, there is a lot of imagery of dolls but these aren't the beautiful dolls of your childhood. When we think of dolls you might think pretty, playful, and all things feminine but these poems explore perhaps a sadder side.
Excerpt from Snow Remembers an Old Tale
Through my screen, that
nighttime scent on the breeze,
a stranger surprising me
out of the dark I put my
hand against, luring
me to another tale.
From that other screen
once upon that time
a girl crawled out at night to dance
in aisles of cornfields
from Mayday to Halloween.
If I can think of an overall theme I would say it is of loss. I felt that a lot of the poems had a deep sense of longing for something in the past. There were several poems that really spoke to me, in particular Debris, Hemmed In and Calculating Loss.
I love to read poetry even if there are poems and poets that I don't feel like I have a grasp on and that was the case here. I found myself going back to re-read poems after I had just finished them because I felt like I was just missing something. I was close to getting it but still couldn't quite grasp the meaning. And, that's okay. Perhaps the poet intended one thing and I found another meaning.
I hope you will give this collection a chance. I would love to hear what you thought about it and I invite to visit the other participants in this book tour. Thank you to Serena and Poetic Book Tours for inviting me to participate.