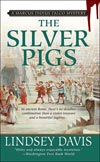 I normally don't have a problem putting a book aside that's just not working out for me. As a matter of fact, I usually only give a book 30-40 pages to see if it draws me in. If it doesn't, no problem. Usually it goes back on the stacks or if I really didn't like it then I move on.
But sometimes I keep on reading hoping things will turn around for me. Unfortunately that's not what happened with me with The Silver Pigs by Lindsey Davis. I kept on for more than half way through the book until I couldn't take it any more.
What is a bummer about this one is that it came highly recommended from a lot of people but you know how it is. We all have different tastes and so this one just didn't work for me. Biggest reason why not? The characters. I found them all a bit annoying, and while I don't have to love every character it is nice if I can relate to one or find one amusing/interesting enough at least.
So, I've already traded off this one on BookMooch. How about you? Any books you did not finish lately? What kept you from finishing your book?