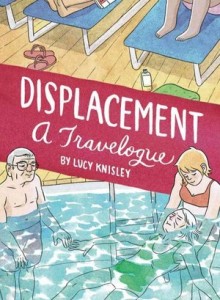 "In February of 2012, I accompanied my grandparents on boar a cruise ship. I love my grandparents, but as many with loved ones in their 90s will tell you, travel and care-taking are no easy endeavor. This book is the journal of my experience."
Displacement: A Travelogue
By Lucy Knisley
I have read several of Lucy Knisley's graphic memoirs and while I've enjoyed them all I found this one to be the most touching and heartfelt of her memoirs. I think it will also be one that resonates the most with those who are caregivers and those who are dealing with elderly family members.
In this book Lucy decides to accompany her grandparents on a cruise. She is in her 20s and a seasoned traveler while her grandparents are in their 90s and already struggling with failing health. The trip is only a week vacation but in that week Lucy learns a lot about what it means to become older and what it means to have patience and compassion.
Through the colorful artwork the reader is invited along to see what Lucy deals with on any given moment with her grandparents. She learns that her grandmother's forgetfulness is not something to be taken lightly, her grandfather sometimes has accidents, and nothing is very easy when you are taking care of two adults, but she also gets a chance to get to know her grandparents more and realizes that she's helping them live their trip of a lifetime opportunity.
I absolutely loved this book. I was reminded of when my grandmother would come visit us. I'd help her to the bathroom, I took her to doctor's appointments, and when she was very ill and needed to be taken to the hospital I rode with her in the ambulance. We all do this for love. Yes, it is hard and there are days your patience is hanging by a thread. You are exhausted and grumpy but one day it will be our turn.
Source: Library copy