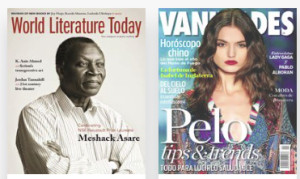 I know digital magazines have been around for a while but I've not really been interested in digital versions. I guess like books, I much prefer to have a real copy. Somehow though this weekend I decided to give them a shot.
So I downloaded the Zinio app for my iPad and started looking around and it's so easy to just click and buy a magazine that I think I will have to be careful otherwise I'm going to load up my iPad with a lot.
To start off with I decided to get World Literature Today, which I used to subscribe to quite a long time ago. I think lately I've realized that I don't read as many authors from other parts of the world as I used to. Sure, I read a lot of British authors and a lot are favorites but there is a whole world out there to explore.
My other magazine is Vanidades. This is not my typical read but I know my mom also enjoys leafing through this one and it'll be a good way for me to read in Spanish more frequently.
I have a wishlist of some other magazines I'd like to get but tell me, do you have any digital magazine subscriptions? Which ones do you enjoy?