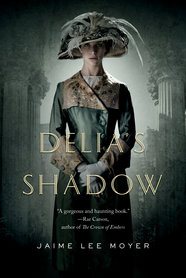 "Each ghost that passed through me deepened the clammy chill that shivered over my skin. Voices filled my head and faded again. I heard cries of pain and pleas for help from those trapped under rubble after the quake, felt the heat of the fire steal a last breath. Age and sickness stole life as well, seldom peacefully. Touching death again and again brought me closer to tears. I gritted my teeth and held on. People would truly think me insane if I began to cry for no reason."
Delia's Shadow by Jamie Lee Moyer
Delia Martin thought she had escaped the ghosts she saw when she moved to New York to teach but when the ghost of a young woman appears to her she knows she has to return to San Francisco and face her fears. San Francisco is home and where her best friend, Sadie, lives but it also holds painful memories of the parents she lost in the San Francisco earthquake.
When she arrives Sadie is busy planning her wedding to a police officer but all is not happiness as she's also taking care of her dying mother, Esther, who also helped raise Delia. The friends try to make the best of things and when Sadie suggests going to the Pan Pacific Exhibition so they can consult with Dora, a spiritualist. Of course, Sadie doesn't miss an opportunity to play matchmaker and also invites police Detective Gabe Ryan to go with them.
For Gabe and Jack, Sadie's fiance, escorting the women to exposition is a good way for them to keep watch on what is going on at the fair. There's a serial killer who is taunting the police force and will probably strike again soon.
Delia confides in her friends about the ghosts she sees and as they put the pieces together of the images, Gabe and Jack realize that Delia's ghost was a victim of the serial killer they are hunting. Delia is willing to put herself at risk to bring justice to ghosts but will she come away unscathed?
The backdrop of the San Francisco earthquake, the excitement of a fair and the appearance of the ghosts is the perfect stage for a thrilling story. All characters are likeable and Delia's and Gabe's romance was sweet but there was one flaw I had with the story and that is that everyone was so willing to accept Delia's ghosts. That no one questioned what she saw and trusted her implicitly seemed too easy. I would have preferred a bit more of Delia fighting to be understood or accepted. It was a fairly predictable read but overall it was enjoyable and a quick read.
Source: Advance Review Copy