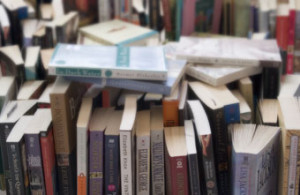 I hope you all had a wonderful weekend. Ours was cold and rainy and frankly, perfect for reading but somehow I didn't do very much of it. What is up with me? Anyway, in my monthly wrap-up post last week I mentioned that I was going to be carrying over several books into December so I wanted to go over those and the other books I've added to the pile.
In progress are still: Jamaica Inn by Daphne Du Maurier, Big Magic by Elizabeth Gilbert, Blue Horses by Mary Oliver and The Dead Will Tell by Linda Castillo. Unfortunately I've had to return The Dead Will Tell as that was an audiobook and I couldn't re-check out because someone had a hold on it. I was really enjoying that one too.
Since that post I did add a few others and they are:
A Conspiracy of Faith by Jussi Adler-Olsen. This is the third book in the Department Q series featuring Detective Carl Morck. Really am enjoying this one but it's long. My husband wants me to hurry up and finish this so we can watch the series.
Nights of Awe by Harri Nykanen. This is the first in another Scandinavian crime novel. This one is set in Helsinki and features Detective Ariel Kafka.
Leave Me by Gayle Forman. Of all my books I think this is the one that seems to be flying by. I still have a ways to go but it's so easy to get caught up in the drama of a woman who's facing a serious illness and all the life/family obligations she still has to deal with and all she wants is to have someone take care of her.
Normally, this would be more than enough books for me to have ongoing but I need to also read my book for mystery book group. Our December selection is The Alienist by Caleb Carr. I read this many years ago but unfortunately don't remember much about it. All I want to know is why did we pick such a chunky book for this month's read? Hmm, I may be doing a bit of skimming on this one.
So my goal is to not add any more new books to this stack until I finish off a couple. What about you, what are you reading this month?