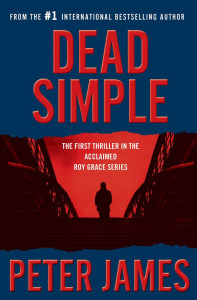 "So far, apart from just a couple of hitches, Plan A was working out fine. Which was fortunate, since they didn't really have a Plan B."
Dead Simple
By Peter James
The novel opens with five friends drunk and celebrating their friend's upcoming wedding. Michael Harrison is successful and charming but he's been known to play some epic practical jokes on his friends and this time his friends are finally getting back at him. They leave him buried alive with just a breathing tube, whiskey and a two-way radio.
They take off intending to drink some more and let Michael get a taste of his own medicine but they are involved in a head-on crash and three of the men die while the other ends up in a coma. Now Michael is trapped and no one, not even his beautiful fiancée, Ashely, know where he is.
Detective Roy Grace is called in to look for the missing groom and at first figures he might just have ended up drunk somewhere else but he is not returning his calls or those of Ashley. When Grace finally meets Mark, best man and Michael's business partner, he becomes suspicious that Mark wouldn't know what the group was planning for the bachelor party or where Michael might be. Conveniently Mark was also out of town away on business.
The wedding hour is drawing near and no groom appears. As Grace continues the questioning he begins to think that foul play is involved and he doesn't quite trust that everyone is telling the truth about Michael.
I loved that this one was a page-turner. Just as you think you know what is going on, a new bombshell is dropped and you can't wait to keep on reading to find out what next. I really liked Detective Grace and this is a series I plan to continue as I want to learn more about the demons that drive Grace and if we find out more about the missing woman in his life.
Source: Personal Copy