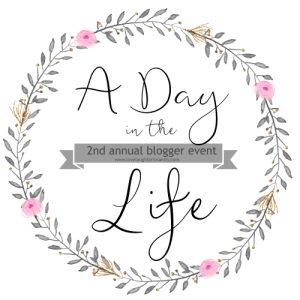 Trish from Love,Laughter and a Touch of Insanity is once again hosting the Day In the Life blogger event. I didn't participate last year but had a lot of fun reading many of the posts so I definitely wanted to participate.
First I do just want to say that the pictures and documenting was done over the weekend and Monday but this is sort of typical of a work day for me. So here it goes!
5:45 – Alarm goes off. Although I'm not a morning person I refuse to hit snooze so I always get up right away. I feel like if I stay in bed longer then I will fall back asleep.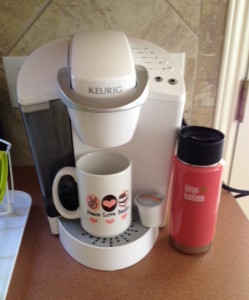 5:45 – 6:45 – Shower, contacts, make-up, style hair, glass of milk and out the door. Never forgetting my coffee, other breakfast goodies and grabbing my lunch bag. Currently my favorite K-cup flavor is Panera Hazelnut Creme. I do feel slightly guilty about using K cups but for what it's worth, I do empty out the coffee grounds and use them in our compost. I feel a bit better about that.
6:45 – Listen to NPR on my way to work.  Now with Daylight Savings Time in effect, it's so dark when I drive out in the morning but I do enjoy seeing the sunrise as I get closer to work. Somehow makes my commute a tiny bit better.
7:30 – Finally got in to work.
7:30 – 12:00 – Check emails, answering phone calls, meetings, spreadsheets, etc. I always say that being in HR you never know what each new day can bring.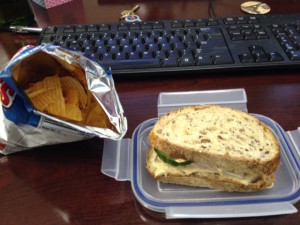 12:00 – 12:30 – Time to eat lunch. I know, ugh. I should go out more but I try to keep my lunch to 30 minutes most days.
Usually I eat lunch at my desk and almost always bring in a yummy sandwich that my husband prepares for me. Chicken, hummus and cucumber on Seedsational bread from Sprouts. Oh and water of course. I have a Contigo bottle on my desk. Today I also indulged in potato chips because I had a hectic morning.
During lunch I try to catch up on news of the day, check out SHRM, and send some emails.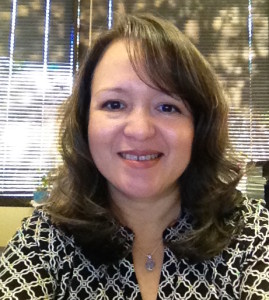 1:00 – 4:00 – Still at work. Had a quick meeting in the afternoon.
4:00 – 4:50 – Brace for my commute home. On a good day it's 45 minutes on a bad day it can be 1 ½ hours. I try to listen to NPR going home as well but sometimes need a bit more upbeat stuff so I'll check out Latino 102.7 and get my dose of latin music. I wish I could listen to audiobooks on my commute. I've tried it before and just couldn't do it.
5:00 – 5:30 – I'm home. Yay. Take off my jewelry and change into my comfy clothes. Catch up with my mom.
I also love to take a look at our backyard to see if any new blooms have shown up or just to see any changes. Have added some yard art to the backyard so it's fun to see the pops of color.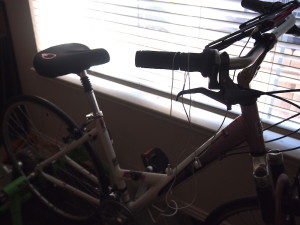 5:30 – 6:00 –  Get on my bike and watch youtube videos. Yes, I actually have two bikes (not counting my bike in Germany which then makes it three bikes! – I think my husband's obsession is rubbing off on me. I won't tell you how many bikes he has!)
My "indoor" bike is set up on a bike trainer so on days I don't make it to the gym, I try to work out at home at least 30 minutes. I definitely need to work out more but am slowly getting there. My husband usually arrives home by this time so we'll catch up a bit and if it's a gym day we both go.
6:00 – 7:00 – Hang out with my husband and my mom some more and usually eat my dinner. Most of the time it's Cheerios, but tonight I had an avocado on toast. Yum.
7:00 – 8:00 – Watch a show with my husband. Sometimes we watch Grimm, Blindspot or whatever show we are into at the moment.
8:00 – 9:00 – Check emails, try to catch up on blogging, check Facebook, my Etsy shop, read, etc. I also try to catch up on my journaling. Sometimes it's just a few lines in my Leuchttrum journal, other times it's my personal journal or my art journal. I have about 5 or 6 journals that I work in.
Before I go to bed, I also have to decide what I'm wearing the next day. I hate spending time on that in the morning.
9:00 – 10:00 – Watch El Hotel de los Secretos with my mom. I don't really like to watch telenovelas but I do it to spend time with my mom. This one is actually not too bad because it has a mystery element to it and I'm trying to figure out whodunit.
10:00 – 10:30 – Get ready for bed and hopefully am in bed and reading. Currently I'm reading A Grave Matter by Anna Lee Huber.
10:30 – Lights out (hopefully). Sometimes I do turn off the light but my booklight comes on so I can continue to read a bit more. My husband just read this and said I always end up turning on the backlight so I had to amend this. Ha.
Hope you enjoyed reading about a day in my life. Can't wait to read about your adventures!