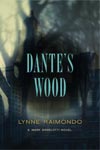 "Our subject today – let's call him Patient M – is a forty-seven-year-old male employed as a clinical psychiatrist at a large urban teaching hospital. For the better part of a year, M has been on leave of absence following the sudden onset of a rare medical condition, the effects of which are considered by most members of society – with the apparent exception of M's employer – to impose significant restraints on the patient's lifestyle and to require a prolonged period of adjustment and rehabilitation."
Dante's Wood by Lynn Raimondo
Psychiatrist Mark Angelotti has just returned to his practice after spending months adjusting to his new life. His new case is a mentally handicapped young man whose parents believe is the victim of sexual abuse. From their first meeting, Mark can tell the mother is hyper-sensitive to one of the teachers and thinks it's just that Charlie is just growing up and doesn't know how to process his feelings.
Months later a teacher is murdered and Charlie Dickerson has confessed to being the killer after he is found next to the victim. When the autopsy reveals that the victim was pregnant and the paternity tests who that Charlie is the father this seems like and open and shut case for the police. Mark firmly believes Charlie is innocent and will throw himself into the case no matter if his career and personal safety are on the line. As the reader learns more about Mark, not only is he concerned Charlie but also wants to atone for mistakes in his past.
What a thought-provoking story. What I didn't mention about Mark Angelotti is that he lost his vision and a lot of the story has to do with how he manages without it. His fears of a relationship, his triumphs as he's helping with the investigation and his acceptance of the reality. Also, with how society treats people with disabilities and despite a lot of good intentions there is still a lot of work to do whether in finding cures to finding acceptance.
Discovering who the killer was not a surprise for me but that didn't deter from my enjoyment of the story. As a matter of fact, I'm normally not big into legal thrillers but this one had such a compelling character. I really liked Mark and his sarcastic humor.
Source: Personal copy