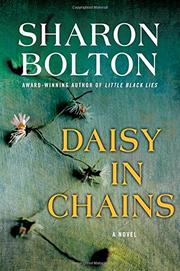 "Dear Miss Rose, I am not a killer. I know the lawyer in you will be saying: evidence, give me evidence. And believe me, I can, lots of it. But for now, I make one simple appeal to the seeker of truth that I know you to be. I am an innocent man. Please help me. Sincerely yours, Hamish Wolfe."
Daisy In Chains
By Sharon Bolton
The handsome and charismatic Doctor Hamish Wolfe is currently serving a life sentence at Parkhurst Prison for the deaths of three women but there are those who believe he is innocent. He receives plenty of letters from admirers and even has a group, the Wolfe Pack, who along with his mother are advocating for his release and to that end they reach out the Maggie Rose.
The reclusive lawyer is known for her skill in casting doubt on other similar cases to Wolfe's and she has helped several men get their sentences overturned. Maggie Rose doesn't have to believe that the men are innocent but if there is some shred of doubt in the cases and she thinks she can win, she'll take on the challenge.
As Maggie begins a correspondence with Hamish, she is also crossing paths more frequently with Detective Pete Weston. He urges her to be careful and she wonders if maybe his case against Wolfe isn't as iron-clad as he made it out to be.
Detective Weston is intrigued by Maggie and despite his better judgement he will work with Maggie not to free Hamish but to prove his case and stay close to Maggie. He doesn't understand how a smart woman like Maggie can be lured by Wolfe but then again so many other women have fallen under his spell and that's how they met their fateful end.
The story is shaped by letters, newspaper articles and several narrative voices to give the reader a glimpse from all angles of the Wolfe case. The character interactions are fascinating especially between Wolfe and Maggie, and if there was ever a thriller with lots of twists and turns this is it. Get your hands on this book, clear off your calendar and be drawn into this intense thriller.
Source: Advance Reading Copy