"Gemini: Artistic leanings yearn to be developed. Follow this urge and express yourself creatively." My horoscope was spot on this past week. After all the artsy goodness from E.A.S.T. last weekend I couldn't wait to go to my crafty class on Tuesday. Unfortunately work has been super busy all week, which is why I sort of went M.I.A. from blogland, and I felt like it took me a while to get into creating.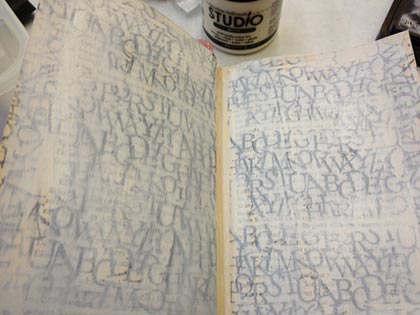 It was good for me to play with stamps and gesso even if I didn't finish a whole page. I basically just worked on some backgrounds but I was happy with some of the results and it was great to talk about supplies and techniques with the other members of the class. It certainly helped to make me feel inspired.
The page pictured here was stamped all over with an alphabet stamp in black ink. After the stamping, I used gesso on top and even though it smeared a bit of the ink (I'm impatient and didn't wait for the ink to dry) I think it came out pretty cool. Not sure what I'm going to do with the rest of the page.
Anyway, so what else? This weekend it's been cold so we've been enjoying tea and yesterday we had this yummy hot chocolate. I'm also still reading German books for German Literature Month but I don't seem to be making much progress. I did go to the library yesterday and picked up some books (more on those in another post) and found a new book by a German author which I may start tonight. I think German Literature month is going to extend for me well into December as I know I won't be finishing any of my books anytime soon.
That's it for now but hope you all have a great week ahead!