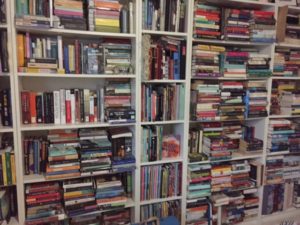 It's been a while since I've told you what's on my nightstand but then again I just feel like my bookmarks are not moving much these days.
First let's start with a really good book that unfortunately I have found hard to focus on. The Enlightenment of the Greengage Tree by Shokoofeh Azar. I love the more dream-like almost magical realism aspects of this book but again it's one that I found a bit difficult because it does take place during the 1979 Islamic Revolution so some parts have been sad and hard to read. I'm not giving up on this book but have put it to the side for a bit.
Next on my rotation is Mr. Nobody by Catherine Steadman. This is a thriller about a man found on the beach who doesn't remember anything and the doctor who is going to treat him. Does he really not remember anything? But why did he call her by a name she no longer uses? Seems like he's hiding things but so is the doctor. Good thriller so far and I'm close to the end but honestly can't figure out how this will be resolved.
A book I started this week was The Painted Bridge by Wendy Wallace. For those of you who enjoy Victorian settings, this is a good one so far. Anna has been sent to an asylum by her husband because she did something that made him look bad to the congregation he leads. Anna needs to find a way to get out and pins her hopes on Dr. St. Clair and a new treatment.
Finally, Devotions by Mary Oliver. I love her poetry and can't believe I don't have any of her books. I got this as an ebook deal but honestly, I need to get a physical copy so I can easily revisit it time and again.
So those are the books on my nightstand. What are you reading this weekend? Hope you have a good one and more book talk soon!