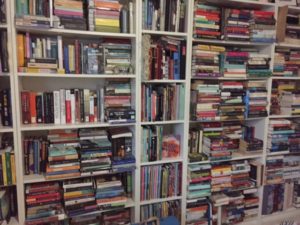 I hope you all had a wonderful weekend. We had some very warm temperatures and I was almost ready to turn on the A/C. I wouldn't mind a few more weeks of cold weather that's for sure.
Anyway I don't know how the weekend just flew by but I wanted to pop in and tell you about my current reads.
On my commute I've been listening to The Stolen Marriage by Diane Chamberlain. Tess DeMello's carefully planned life is changed forever after one night. This is set during WWII and as Tess dreams about her career in nursing she realizes that after the events of that night a lot of things will have to change in her life. So far I'm really enjoying this drama.
I'm also reading Blue Label by Eduardo Sanchez Rugeles. Eugenia Blanc is a young Venezuelan woman who dreams of finding her grandfather and hopefully establishing residency outside of Venezuela. She needs to leave the country. Her road trip with a friend brings her in contact with dreamers, political activists and other Venezuelans who want something different from their country and government. A timely read.
My nighttime read is My Name is Lucy Barton by Elizabeth Strout. I loved her book Olive Kitteridge and so far this one isn't grabbing me as much as that one but it's still a bit soon so I'm hoping I'll change my mind about it soon.
Finally in my effort to read more poetry I also have The Crooked Inheritance by Marge Piercy on my nightstand. Have you read any of her poems? I know I've read a few of her poems here and there but I'm really glad to read through this whole collection. I'll let you know more.
Anyway, that's it for me lately. Have a great week and let me know what you've been reading.