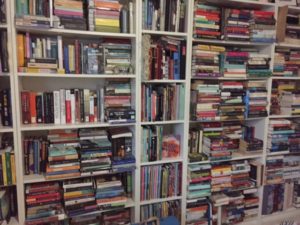 My reading has definitely picked up and that's a good feeling. Not that I'm whizzing through books but I feel like I'm making progress so I thought I'd share a bit about the books I'm currently reading.
Sworn to Silence by Linda Castillo is the first book in the series featuring a former Amish woman who left the life and is now the Chief of Police of Painters Mill. Kate Burkholder may be strong but she doesn't have a lot of experience under her belt and now she is facing a case that could easily break her burgeoning career. Great tension and character development. I think this is a series I will easily get hooked on and lucky for me there are already 14 books in the series.
For my next book I'm giving audiobooks another chance. This time with the Keeper of Lost Things by Ruth Hogan. Anthony Perdew collected lost things – A blue button found on the street, a broken bracelet, a hairclip. His goal was to reunite the lost items to their owners but he has a room full of items waiting to be reunited and in the meantime he's written stories about the items and imagined why they were lost. I was a bit lost at first because it's not just Anthony narrating but sometimes the story goes back and forth in time and between other characters (those who have lost the items). I'm about half way through this one.
Little Big Love by Katy Regan is the story of a young boy, Zac, who is determined to find his dad. All he knows is that he left his mom when he was a baby. He knows his mom loved him but he also knows his grandparents don't like talking about him. With the help of his best friend they are going to collect information and find him. Very sweet. I'm getting close to the end and still no dad in sight so I'm so curious what's going to happen.
I'm trying not to add any other books so I can focus on these for now but you know I do love starting a new book. So have you read any of these?