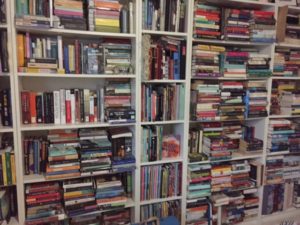 I hope you all had a wonderful weekend. We spent a great afternoon at the Coffee Bean & Tea Leaf so I could catch up on my book group book and enjoy some coffee of course. I have several books I'm reading but all of my attention this weekend has been devoted to The Lost Boy by Camilla Läckberg.
We've been watching this series featuring crime writer Erica Falck and her husband, Detective Patrik Hedstrom, but luckily this story is not one of the episodes we've watched. There are a lot of characters, some flashbacks and how it all ties to the death of a quiet, likable man will be most interesting.
So in the meantime my other books have taken a backseat but I thought I'd tell you a bit about those as well. I'm also reading Olive Kitteridge by Elizabeth Strout. Remember when this book was all over the blogosphere? I have had it forever and finally decided to read it. It is so good and I can see why it garnered so much praise. There are several interconnected stories about life in Maine, Olive and her family and different times. I can't wait to get back to this book.
My other read is Not A Sound by Heather Gudenkauf. This is a thriller about a woman who suffered a traumatic injury and is finally getting her life on track. And, that's when she stumbles upon the dead body of a friend. Good tension and so far I have my bets on whodunit. I'll let you know if I end up being right.
Finally, Those Who Save Us by Jenna Blum. I picked this one up to readalong with Anna & Serena for the War Through the Generations readalong. Unfortunately I didn't get very far before I had to return it to the library. It's a captivating story and I want to know how Anna survives the war so I've put another hold on this book and hopefully I'll get it back soon.
So now it's back to reading The Lost Boy. What about you, what are you reading right now?