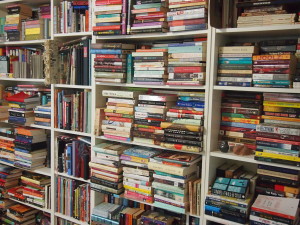 I hope you all had a great weekend. I caught up a bit on my reading so I thought it was a good time to let you know what's currently on my nightstand.
First, All The Missing Girls by Megan Miranda. Because this book is written in reverse order I sort of think this should be my lunch read and not before going to sleep. It's a psychological mystery that received quite a bit of attention last year and this focuses on a girl who's gone missing. Too early for me to tell but I will keep going with this one.
Next up is Two Days Gone by Randall Silvis. In this thriller a college professor is accused of murdering his family and the main character, detective Ryan DeMarco, is on the case to find out what happened. This one has alternating chapters told by DeMarco and the missing professor and I'm finding that I wish it was just told from one viewpoint but I'm intrigued and what to know what really happened.
Last night I wanted something light to read so I started The Seafront Tearoom by Vanessa Greene. This one is a story about friendship and opening your heart to possibilities. Oh and tea!
I recently finished The Island House by Nancy Thayer so I'll try to tell you more about that soon. Yes, a light read but it was just what I needed to get me out of my reading slump. Of course now I've been googling pictures of Nantucket where the book is set and I am dreaming of days playing in the sand and delicious seafood dining. I need a vacation.
Those are my current reads. I am thinking of adding a couple of more books to the stack because in case you hadn't heard, Serena & Anna are hosting a readalong for Those Who Save Us by Jenna Blum. And, I probably also need to start my mystery book for my book group soon. I'll tell you more about that in another post.
So what about you, what are you reading and have your read any of the books I mentioned?