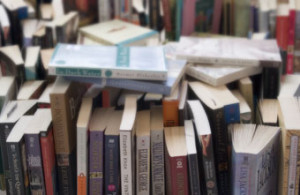 I'm in the middle of three good reads right now so I thought it was time to share a bit about those books.
In The Unlikely Event by Judy Blume. This has taken me quite a while to get through and while I'm not too sure that this will end up being a favorite I still like how I feel transported to America in the 1950s. The descriptions of advertisements, television shows, etc. really make you feel like you've stepped back in time.
People Who Knew Me by Kim Hooper. Ever wanted to run away from life and all of it's obligations and responsibilities. For Emily life became too much to handle and she left her husband, her home, her name even. Years have passed and now she is the one who may need to ask for help. Can she go back to those who knew her? This is such an engrossing story. I think I may finish this before all the others on my nightstand. I just have to know what happens.
After You by Jojo Moyes. I've been resisting this one because I loved Me Before You and didn't really think a sequel was needed. Also, while I read a lot of mystery series books when it comes to fiction I tend not to like sequels. I know that is totally weird and probably doesn't make sense. Anyway, this is my lunch time book so I'm making very slow progress but it's good so far.
You are probably thinking, no mystery? Right, no mystery for now that is. I will be adding one to my nightstand this weekend!
Speaking of the weekend, what are your plans? We might go on an artsy adventure. Don't forget to add your name to the giveaway for My Name is Leon. Have a wonderful weekend and more book talk soon!