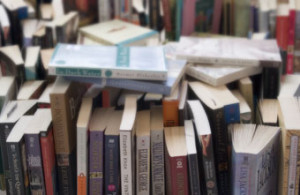 I've been spending time with several books this week which have taken me from San Francisco to New York and to Dublin. Not to mention, I've been jumping back in time. Here are my current reads:
The Secret Place by Tana French. Although her books can certainly be read as standalones this is the fifth one in her Dublin Murder Squad series. Like her previous books, I know I can expect well-drawn characters and complex plots. This one is no exception. In this book two detectives are called back to a posh girls' school where a murder took place. I'm thoroughly enjoying the descriptions of the girls' behaviors and attitudes.
Murder on St. Nicholas Avenue by Victoria Thompson. This is the 18th book in the Gaslight series and yes, I've read all the previous ones. I just love the setting and these have become comfort reads for me. At the start of this novel we find out that Sarah and Frank are not going to be as involved and it's mainly the other characters who get a chance to shine and do some sleuthing. I admit I was a bit disappointed because while I enjoy the secondary characters it's Sarah and Frank who bring me back each time to this series but so far it's proving to be an enjoyable read.
Against A Brightening Sky by Jaime Lee Moyer. This is the third and final book featuring Delia Martin. While this is a mystery series and Delia's husband is a police detective, the big difference from other mysteries is that Delia sees ghosts and can often help in police investigations. This book though seems to be veering more into fantasy genre territory then the previous ones. I really enjoyed the second novel but I'm not sure if I'll find this a satisfying conclusion to the trilogy. I'll keep you posted.
Paid For: My Journey Through Prostitution by Rachel Moran. I read a review about this memoir in Bitch Magazine and it sounded interesting and something totally different from my usual read so I was very intrigued by this. I've only just started it but I can imagine this will be hard book to read. In the first sections of the memoir the author is taking a look back at her difficult childhood, having parents with mental illness and being in poverty.
So those are my reads. I normally do not have so many mysteries going on but somehow this happened. Oh well, I think the reading year is off to a great start. I hope to finish one of these books this weekend. Keeping my fingers crossed. I really want to because I actually have to add another mystery to the mix for my upcoming mystery book group.
Anyway, we did it, we survived going back to work after the holidays. I know I'm ready for some downtime at the bookstore. How about you? I hope you all have a wonderful weekend.