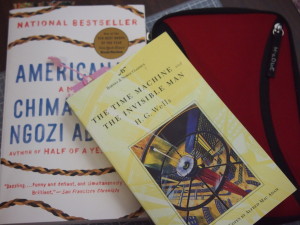 I don't know about you but I am ready for a three day weekend. I've had a pretty busy week at work and have been dealing with a bit of insomnia so yep, I'm ready to enjoy the weekend even if we are supposed to get rain for most of it. I'm envisioning naps, trips to the bookstore and crafting projects. There may be a cupcake involved too. Ha.
Anyway, it's time for an update on what I've been reading lately. First it's The Invisible Man by H. G. Wells. What a great read. A few years ago I read his book The Island of Dr. Moreau which I found completely thought-provoking and to this day I can get unnerved just thinking about it, so I wasn't quite sure what to expect. My only knowledge of The Invisible Man was a black and white film version I saw as a kid. I am enjoying the action, the mystery and of course I can't wait to see how it ends.
Next is Americanah by Chimamanda Ngozi Adichie. I've read her books Purple Hibiscus (loved it) and Half of A Yellow Sun so I was pretty sure I was going to be in for a wonderful story. I'm only about thirty pages into this pretty long novel but already I feel like I'm getting to know the characters well and want to see what's in store for them.
Finally on my Kindle is Evil Games by Angela Marsons. This British mystery series features Detective Kim Stone. Unfortunately I started this and pretty soon realized this is the second book in the series but I couldn't stop reading and didn't want to go back and read the first book first. This crime thriller has great pacing and I'm hooked.
So I hope you all enjoy your weekend and I'll be back next week with more bookish stuff.