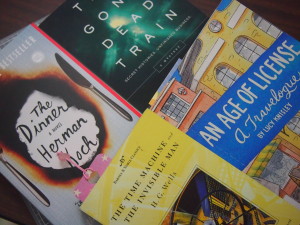 I'm in the middle of some wonderful reads and it's hard to put one down to go to another. I know, why not finish one right? Well, it's just so fun to juggle books. So here are the books that are vying for my attention:
The Dinner by Herman Koch. Two couples meet for dinner to discuss their children. How can a story take place just in one evening? This one does and boy does it grab your attention. As the courses keep coming to the table there are more revelations about each person and what has brought them together. It is unnerving and I almost don't want to continue reading because I can't imagine what else is going to happen but I'm hooked.
The Keepsake by Tess Gerritsen. This is my audiobook so unfortunately it is the one I don't pick up as often because I save this for my outdoor walks and haven't been on any in more than a week. It is entertaining and I just need to get out and walk a bit more.
An Age of License: A Travelogue by Lucy Knisley. I've enjoyed French Milk and Relish by Knisley a lot so I had no doubt that this one would appeal to me as well. At one point in this graphic memoir she'll talk about her stay in Berlin. That's the part I'm most excited about as I've been to Berlin several times and I want to see what her experience there will be like.
The Invisible Man by H.G. Wells. I needed to pick up something for the Once Upon a Time challenge and why not something by one of the authors credited with inventing science fiction.
The Gone Dead Train by Lisa Turner. This the second mystery featuring Detective Billy Able. I've not read the first and you know how I feel about reading books out of order but it's a read for my mystery book group meeting. Despite starting with the second book I don't feel lost and this is turning out to be a good mystery.
So have you read some of these books? Any favorites?