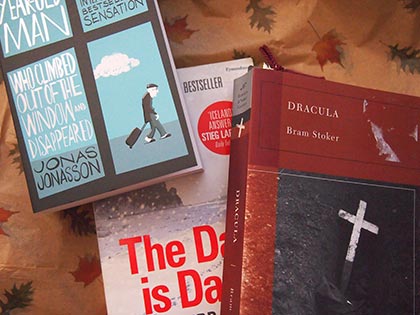 As I've mentioned in a couple of other blog posts, my reading has slowed down a lot lately but I do have a couple of very good reads going on and that's what counts right?
So the first one is Dracula by Bram Stoker. This a R.I.P. Challenge read and so far I think it was a great choice. I cannot believe it's taken me this long to read this classic story especially since I've always loved vampire stories. Even though I know the basics of the story and I know the end I can't help but be so taken in with it. And, let me tell you I've had some chills as I've read some scenes. I'm about half way through this one and can't help but wonder what awaits.
My next book is The Hundred-Year-Old Man Who Climbed Out of the Window and Disappeared by Jonas Jonasson. How is that for a long title? This book is about the adventure this centenarian is about to go on when he escapes from his nursing home on the day of his birthday. Gotta love a rebel! I'm not very far in the book and he's already come across nefarious characters and stolen money.
Next is The Day Is Dark by Yrsa Sigurdardottir. I think this is the fourth book in the Thora Gudmundsdottir series (I may have missed book 3) and while the premise sounds pretty intense – two Icelanders gone missing in a sparsely populated are on the coast of Greenland – I am not feeling very invested in the story. We'll see if it passes my 30/40 page test.
Finally, Mrs. Buncle's Book by D.E. Stevenson. I think this book ended up on my Kindle after I heard about it from other bloggers. Barbara Buncle is in need of funds and decides to write a little book with some characters that greatly resemble the inhabitants of the village she lives in. Chaos ensues when the villagers read the book! Reading this sort of reminds me of Mrs. Harris Goes to Paris or Miss Pettigrew Lives for a Day. A cozy read.
Anyway, those are my reads. Have you read some of these? What about you, what are you reading?
I hope you guys have a wonderful weekend and more bookish talk soon!