Earlier this year I was reading one book at a time but lately I've been back to having multiple books going on. Here are the books I've been spending time with these days.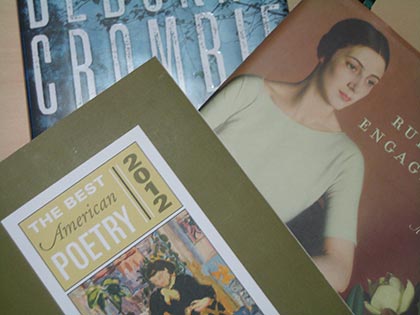 Accidents Happen by Louise Millar – From the jacket blurb: "Kate Parker has weathered unimaginable horrors. Her parents died in a traffic accident on her wedding night, and her husband was murdered. All she has left is her young son and she's determined to make a better future for him." Of course as soon as you start reading this book you realize that Kate's actions to keep her son safe are a bit extreme. This is my lunch hour book so it's taking me a while to make progress but I am very interested in how it ends.
The Rules of Engagement by Anita Brookner – From the jacket blurb: "Elizabeth and Betsy had been school friends in 1950s London. Elizabeth, prudent and introspective, values social propriety. Betsy, raised by a spinster aunt, is open, trusting and desperate for affection." Brookner's novels are so rich in character details that you feel like you really know who these women are. I'm finding out a lot about both of these women.
No Mark Upon Her by Deborah Crombie – From the jacket blurb: "A riveting police procedural featuring Duncan Kincaid and Gemma James where they investigate the puzzling drowning of a rower, a Met detective, on the Thames." I've recently started this one and so far it's been a bit harder to get into but I'm hoping it'll turn around soon.
The Best American Poetry, 2012 by Mark Doty and David Lehman – From the jacket blurb: "The poems chosen for this collection are poems of high moral earnestness and poems in a comic register; poems that tell stories and poems that test the boundaries of innovative composition." A poem I will probably add to my personal collection is "Terminal Nostalgia" by Sherman Alexie.
What about you, how many books are you reading right now and which is your favorite so far?