Normally I'd be telling about all the books I'm currently reading but as I mentioned recently I'm sort of sticking to one book at a time for now. My energy seems a bit scattered as I have lots of work and other things going on so focusing on one book keeps me engaged and into the story.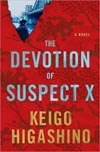 So what am I reading? The Devotion of Suspect X by Keigo Higashino which has been a Japanese bestseller and I believe it's now also a movie?
The story centers on Yasuko Hanaoka, a divorced single mother, who has finally escaped her abusive ex-husband. She has a respectable job, lives in a nice apartment building and seems to be making a good life for herself until her Ex is back in the picture.
He wants money and Yasuko knows she'll never see the end of him but their meeting turns violent and now he is dead and Yasuko doesn't think she has any options left but her next door neighbor comes to her rescue.
How will her neighbor, Ishigami a brilliant math teacher, be able to conceal what happened and thwart a knowledgable police detective. That is what is become the real mystery and so far it's very good. I should go to sleep early tonight because I know tomorrow I have a busy day at work but I get the feeling I'll be wanting to read just one more chapter. You know how that is.
What about you, what book is keeping you up past your bedtime?