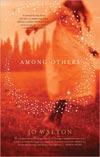 "I sat on the bench by the willows and ate my honey bun and read Triton. There are some awful things in the world, it's true, but there are also some great books. When I grow up I would like to write something that someone could read sitting on a bench on a day that isn't all that warm and they could sit reading it and totally forget where they were or what time it was so that they were more inside the book than inside their own head. I'd like to write like Delany or Heinlein or Le Guin."
Among Others by Jo Walton
Remember how I said I put this book aside recently to get to another first? While I very much enjoyed my other book, I'm really taken in by this one. I wasn't sure if I was really in the mood for a fantasy book but a few pages in and I'm so hooked.
The main character is a young girl who has run away from home. She lands on her father's door, a man she's never met and she's promptly sent off to boarding school. She's an outcast for various reasons at the school and there are many things that are slowly coming out the further I get in the story that allude to some dark moments in her life.
It's no surprise that Morwenna finds refuge in books. She finds comfort in the worlds of science fiction and fantasy and in the fairies she sees around her.
While I may not be quite the fantasy and science fiction fan that Morwenna is, I can certainly relate to the joy of finding a new author to love, discovering a bookshop to explore and just being with books. I'm not very far into the story yet but I'm excited to see what else is in store.
Isn't it fun to read about bookworms in books? That makes you feel like you can relate to the character doesn't it?